Cool Reader
3.2.32-1
EBook Reader – Take Your Library Wherever You Go
If you are an ardent book lover and want a way to read your favorite books on your phone on the go then you should give this eBook reader a try. Cool Reader is a nice app which gives you the chance to read your favorite books on your Smartphone as if you are reading their paperback version. It allows you to open the books you have stored on your device no matter which eBook formats they are in and read them just like a normal book. You even have the option of downloading popular books from online catalogs too. The simple design and layout of this app combined with its intuitive user interface make navigating this eBook reader an easier proposition even for novice readers.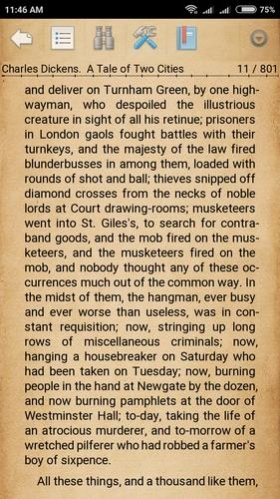 Cool Reader lets you read eBooks in multiple formats. Whether your books are in .epub or .mobi formats, you won't have any difficulty in reading them in this eBook reader. There is support available for other eBook formats like PRC, PDB, TCR, CHM, HTML, RTF, TXT, Doc and Fb2 as well. You can search for the eBook on your phone either by using the search option or browsing the folders of SD card or Books. Once you have found your book, you simply have to tap on it to open it and begin reading. If you don't have any eBooks stored on your device, you can always download them from different online catalogs for free. You are provided with some eBook sources within the app but you can add your own sources too.
This eBook reader lets you organize your books according to Titles, Series, Authors, and Rating. This ensures that you are able to find them quickly. You can also mark the books you have read as 'Finished' and those you are reading or intend to read next as 'Reading' or 'To Read' respectively. Cool Reader provides you the chance to read the eBooks like a paperback book. You can decide whether you want to flip the pages like in a paperback version or scroll down to move on to the next page. There are separate modes available for reading at day and at night. You have the option of adjusting the brightness level of the screen as per your preference in the tools menu located at the top bar of the screen.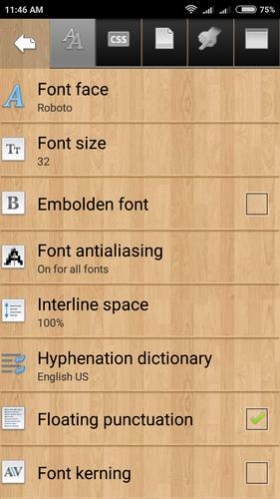 Cool Reader lets you bookmark pages of the book you are reading for future reference. You can also look up words in the book as well using the search tool provided on the top bar of the screen. This eBook reader lets you jump from one chapter of the book to the other with consummate ease as well. You just have to tap on the Table of Contents icon located on the screen's top bar and then navigate to whichever part of the book you want. If you don't like reading the book yourself, there is a Text-to-Speech option provided which helps you in getting the book read to you. You are offered the option of finding out the meaning of difficult words too.
Features:
Intuitive user interface
Simple design and layout
Supports multiple eBook formats
Listen to the books utilizing the Text-to-Speech feature
Allows downloading eBooks from various online catalogs
Read eBooks located on your phone's internal memory or SD card
Different page view and page scroll modes
Option available for adjusting the brightness of the screen
Separate profiles for reading at day and night
Easily navigate books using Table of Contents
Dictionary support for finding the meanings of difficult words
Conclusion:
Cool Reader is an app which is marketed towards people who love reading books on their daily commute to the office. It provides them the opportunity to take their book collection with them anywhere they go on their phone and resume reading right from where they left off. It is a must-have eBook reader for people who have a profound interest in reading eBooks.
---
Add a review
Tell us your experience with
Cool Reader
3.2.32-1
RELATED PROGRAMS
Our Recommendations
---
---
---
---